October 28, 2010 by Jeff Way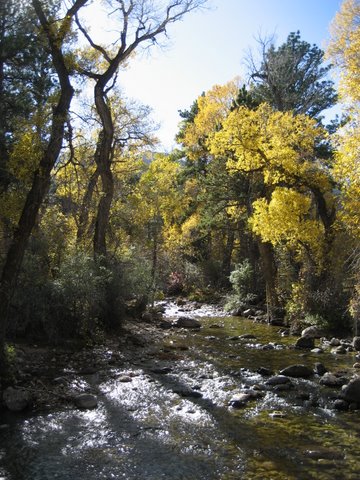 We've had a warm fall so far, which has prolonged the beautiful colors.  We are just getting a hint of typical October temperatures, and it feels good.
All of the cabins have been closed down for the winter, and life moves at a much slower pace.  Elk and deer hunting season is in its final weeks, and cattle work is under way in preparation for our calves to be shipped in early November.  Even though the Ranch is quiet, we are busily planning for next year.
We are offering all of our guests who joined us in 2010 a $500 discount per cabin if reservations are made for the same time period in 2011 and for a minimum of 6 nights.  In order to receive your discount, we must receive a $500 per person deposit by December 1st.  We hope you will be able to take advantage of this offer.  It is our way of saying thank you to all of you who were able to join us this past year.
What exactly is a dude ranch vacation? In its simplest form, a dude ranch vacation offers a room, three meals a day and horseback riding, but it truly offers so much more.  You still receive all of the above, but in addition to that you get beautiful scenery, fresh mountain air, the opportunity to reconnect with family and friends, and western hospitality at its finest.
Dude ranching is rich in history, and we are fortunate to be descendants of those who started it all.  The Eaton brothers settled in Medora, ND in 1879 and quickly began accepting guests from back east and their native area of Pittsburgh.  Before long, the cost of their generosity and hospitality began to add up, and they had to consider charging people for their stays.  The first recorded paying guest was Bert Rumsey from Buffalo, NY in 1882, and thus an industry was born.
There are over 100 member ranches in the Dude Ranchers' Association.  Each ranch has a history of its own, whether it spans 125 years or 10 years; there is a ranch suited to every individual and family.  Here at Eatons' Ranch, our main focus has always been horseback riding.  We offer our guests the opportunity to explore over 7,000 acres at the foot of the Bighorn Mountains as well the 1.2 million acres of the Bighorn National Forest on one of our 200 horses.  When not riding, you can enjoy the peace and quiet with a good book, hike a myriad of trails, fish Wolf Creek, take a refreshing dip in the pool or watch the children play under the sun on Howard Hall lawn.  We provide our guests with enough options that you can choose to do as little or as much as you would like to during your stay.
It's not too late to plan your dude ranch vacation.  We invite you to join us and experience everything Eatons' Ranch has to offer during your dude ranch vacation. Once you have spent time with us, you will always be part of Eatons' and its history.