January 30, 2013 by Jeff Way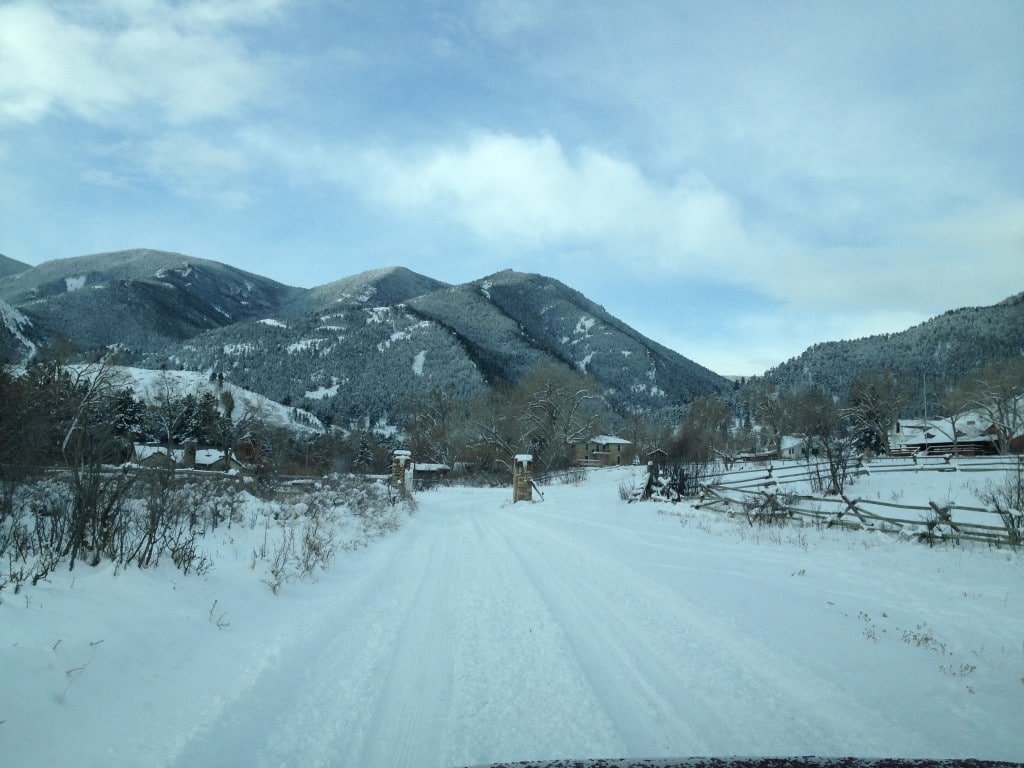 We just returned from the DRA Convention in Wickenburg, AZ and this is what was waiting for us, over 10 inches of much needed snow!  It was a little bit of an adjustment after being in 60 plus degree weather, but we're glad to be back at the Ranch.
We're all catching up on what we missed while we were gone, but Courtney was in the office to answer questions and take reservations.  In addition to being in the office, Courtney also took care of our dinner guests along with our chef Mark.  We've had a busy January for dinners, which we serve Thursday, Friday and Saturday nights and we offer brunch on Sunday.  We're also getting bookings for our bed & breakfast, so be sure to contact us if you're interested in a weekend getaway.  We just finished remodeling the upstairs of the Main House for use this winter and for the upcoming dude season.  Photos will be posted soon!
November 1, 2011 by Jeff Way
It's November and with it came the first snow! We are getting ready for Winter here at the ranch. Our 2011 Dude Season was great, thanks to all of our wonderful guests! We are looking forward to an exciting winter season, stay tuned for more information on upcoming events! Don't forget to like our new fan page on facebook.
February 2, 2011 by Jeff Way
Yesterday at our Wyoming Dude Ranch it was 10 below zero.  This morning it was 15 below zero.  It has been colder but but when the wind picks up and the wind chill gets down to negative 30 that is cold enough.  When the the temperatures drop like this trucks don't start, pipes can freeze, and outdoor work is down right miserable.  Those of us in charge of the livestock, like Bill Ferguson, don't have a choice but to venture out into the cold.  The cattle and horses need extra feed and water and access to open water can be a problem out in the pastures.  Two to three times a day ice must be chopped and cleared from tanks and streams.
We know the deep freeze won't last forever, but the warm days of spring seem a long way off.  The snow covered pines in the background and the ice covering Wolf Creek are beautiful sights and makes us appreciate the change of seasons here in Wyoming at the foot of the Bighorn Mountains.  And it makes us appreciate even more the warmer days ahead when the snow and ice will melt, making way for the green grass of spring that will follow.
December 23, 2010 by Jeff Way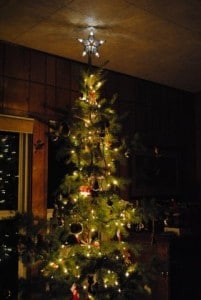 You know Christmas is near when you put up a tree.  As many of you know, putting up a tree when you have young kids in the house is a big event, and picking out that tree can be even bigger.  Cutting down a Christmas tree has been a tradition for many of us here at the Ranch, and this marked the fourth year in a row that my family and I, along with some friends, headed out to find that perfect tree.  After a long hike along the bottom of South Red Canyon in the cold and the snow, we all managed to find Christmas trees for our families.  The excitement on the kids' faces made the trek worthwhile.  They didn't seem to mind the cold fingers and toes because they had helped bring home their own tree.  It is little traditions like these that make the holidays so special.
We hope this holiday season finds you safe, happy and surrounded by those you love.  We wish you all a very Merry Christmas and a Happy New Year!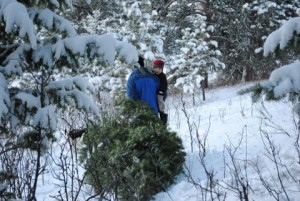 September 16, 2010 by Jeff Way

"Wranglin Notes" by Tom Ringley is here!
"There is an allure to Eatons' Ranch that can't be explained."  So begins the Foreword by the Ranch's current general manager Jeff Way and what he says has proved true for generations of Eaton family members, dudes and employees.  One can't help but wonder if Howard Eaton, at the age of just seventeen, and the first of the Eaton brothers to go west in 1868, had any inkling of the enduring legacy they would eventually build and how many people down through the years would share a part of their dream.
At Eatons', one of the oldest dude ranches in the West, you can still mount a horse and freely roam the Ranch's 7200 acres at the foot of the beautiful Big Horn mountains.  The pleasures you experience will be little changed from the Ranch's earliest days as you follow the same trails traveled by generations of Eatons' guests.  Author Tom Ringley has followed the historic trail of Eatons' itself, and of the many people who have  played such a large part in its fascinating history.  Filled with stories, photos and archival tidbits from the Ranch's own Wranglin' Notes newsletter, Tom's chronicle  tells  the complete story of this unique enterprise over the last 131 years and helps us understand the truth of Jeff's words:  "Remember, once you are a guest here, you are always a part of Eatons' Ranch.
September 3, 2010 by Jeff Way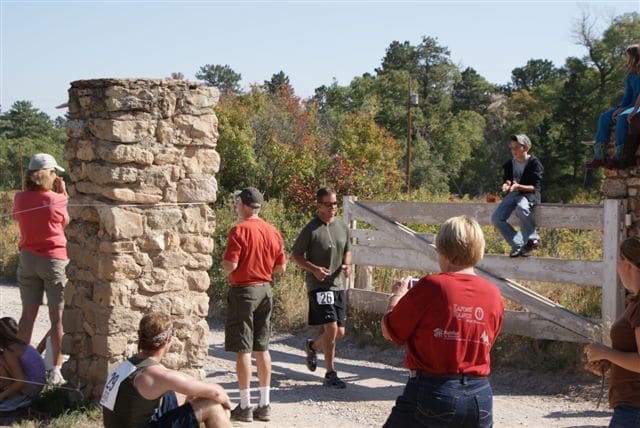 10M & 10K run/hike, Saturday, September 25th, on the oldest Dude Ranch in the nation – Eaton's Ranch outside of Sheridan, WY. The 10 mile trail run offers a challenging up and down course along the face of the Big Horn Mountains.  The trail is somewhat challenging, but worth it for the vistas!
Prizes will be awarded to the three best times in each gender division, and Eaton's provides a free BBQ for all runners and hikers. The cost is $35 to hike the loop and $50 to run it, and each paying participant will receive a free, North Face t-shirt. All proceeds benefit Habitat for Humanity! To register, call Big Horn Mountain Sports at (307) 672-6866.
If you have not visited the Bighorn Mountains before, make sure you bring your sense of adventure. Horseback Riding, Hunting and Fly Fishing are some great activities to explore after your big run. If the 10k run drained your adventures spirits, and your in search of relaxation. The Eaton Ranch's 40 X 70-foot pool and hot tub are available for guest use; soak those tired muscles after a run!
What exactly is a dude ranch vacation? In its simplest form, a dude ranch vacation offers a room, three meals a day and horseback riding, but it truly offers so much more.  You still receive all of the above, but in addition to that you get beautiful scenery, fresh mountain air, the opportunity to reconnect with family and friends, and western hospitality at its finest.
Dude ranching is rich in history, and we are fortunate to be descendants of those who started it all.  The Eaton brothers settled in Medora, ND in 1879 and quickly began accepting guests from back east and their native area of Pittsburgh.  Before long, the cost of their generosity and hospitality began to add up, and they had to consider charging people for their stays.  The first recorded paying guest was Bert Rumsey from Buffalo, NY in 1882, and thus an industry was born.
There are over 100 member ranches in the Dude Ranchers' Association.  Each ranch has a history of its own, whether it spans 125 years or 10 years; there is a ranch suited to every individual and family.  Here at Eatons' Ranch, our main focus has always been horseback riding.  We offer our guests the opportunity to explore over 7,000 acres at the foot of the Bighorn Mountains as well the 1.2 million acres of the Bighorn National Forest on one of our 200 horses.  When not riding, you can enjoy the peace and quiet with a good book, hike a myriad of trails, fish Wolf Creek, take a refreshing dip in the pool or watch the children play under the sun on Howard Hall lawn.  We provide our guests with enough options that you can choose to do as little or as much as you would like to during your stay.
It's not too late to plan your dude ranch vacation.  We invite you to join us and experience everything Eatons' Ranch has to offer during your dude ranch vacation. Once you have spent time with us, you will always be part of Eatons' and its history.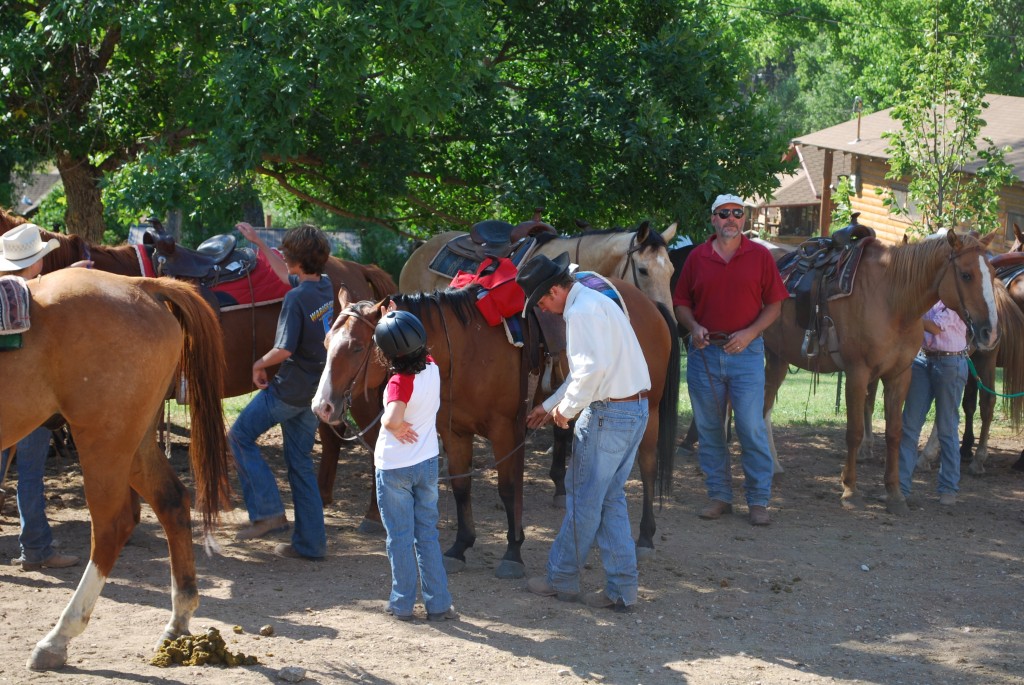 April 30, 2010 by Jeff Way
Opening day is just four short weeks away, and there is still much to do to get ready for our first guests.  We are in full swing trying to clear the grounds of all of the leaves and branches that fell throughout the fall and winter months.  The grass has really greened up over the last week, and it is time to start up the mowers to stay ahead of the spring growth.  We have updated more bathrooms as needed and are working on quite a few cabins in other ways as well.  It seems that every year we think we are caught up, but there are always improvements to be made.
We completed a major facelift to the living room of the Jenkins.  Thanks to the efforts of Steve Gage, Sean Meier, Lonny Gibson and Ed Gilbert, Mary Eaton's vision of the interior going back to its original state was realized.  It is hard to believe it is the same cabin.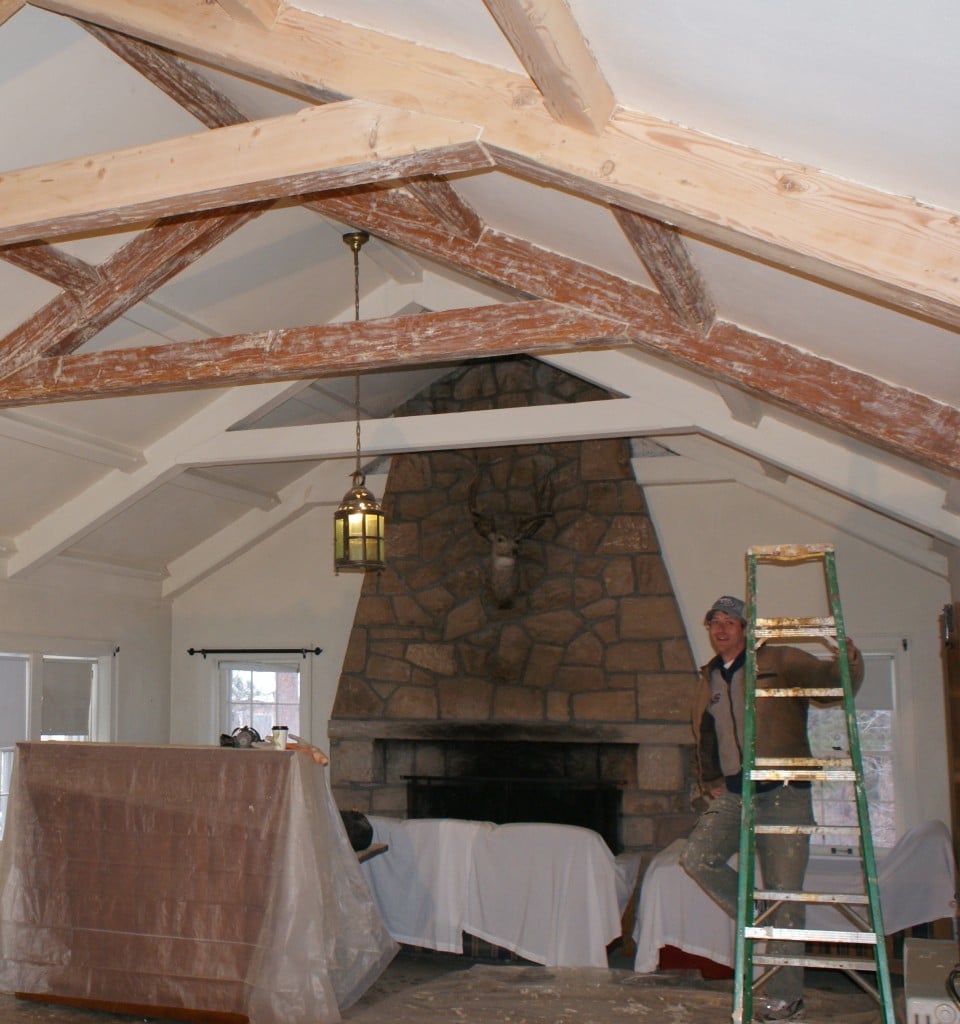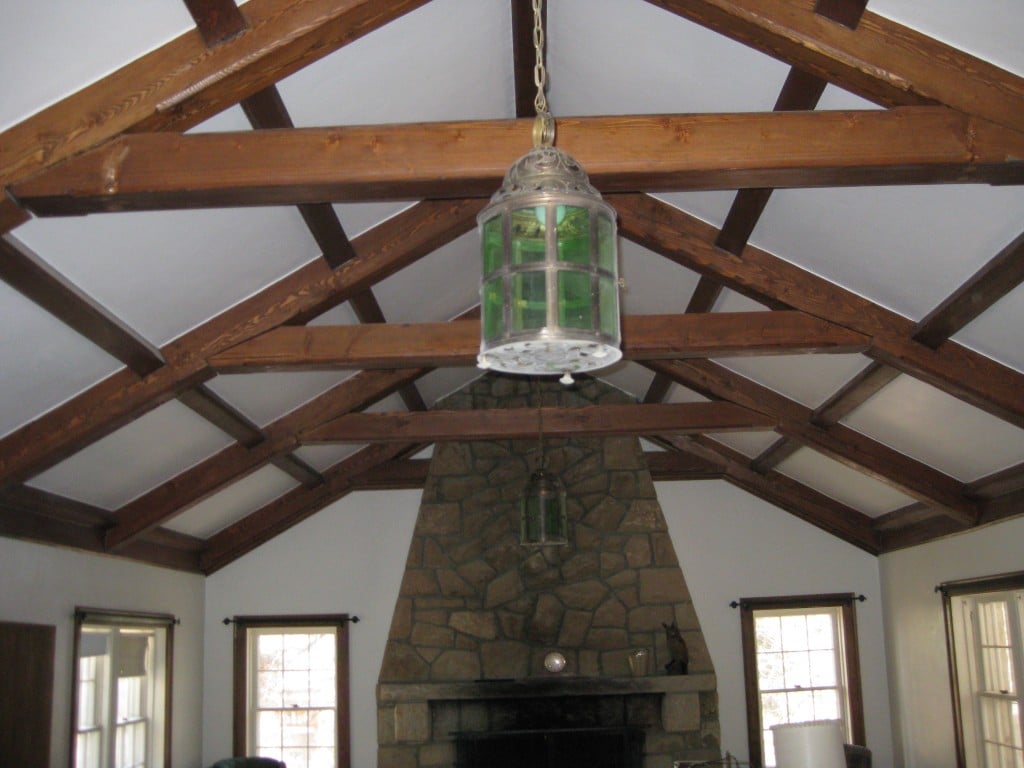 Given the state of business, we have taken a conservative approach to capital improvements, but we have an ample supply of paint and stain for the cabins, decks and out buildings that will have a fresh coat when the first guests arrive.
We know the season is upon us when the horses make their annual three-day trek to Wolf from the Bar 11 Ranch, their winter home.  T.J. Ferguson, Nate Schmeiser and their crew will leave Echeta on May 21st with approximately 140 horses.  Once here, they will join the 50 plus horses that spent the winter in Wolf.  In a little over a week's time most, if not all, will have new shoes and be readied to re-enter the dude string.
We are excited here in Wolf, WY to welcome new and familiar faces for the 2010 season.  If you haven't already considered a dude ranch vacation for this summer, it is not too late!
April 1, 2010 by Jeff Way
Is it really Spring? Here at Eatons' Ranch, we follow the calendar very closely; not the particular days so much as the month and the season. When we flip the calendar page to March, we know there will soon be new calves on the ground and that spring is right around the corner.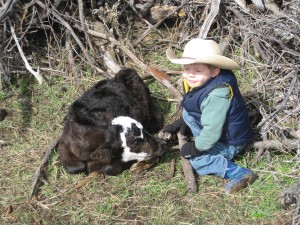 Today is April 1, so we are officially eleven days into spring. This is hard for us to believe as it doesn't seem we had much of a winter. We certainly had our share of cold weather through January, but it has been relatively mild since, and unfortunately we have had little snow. If one of our longtime guests was still able to call us about the snow pack, we wouldn't have much to tell him.
Spring along the Bighorn Mountains can seem like winter in most other places. We typically get the majority of our snow in April, so maybe it is still on the way. It is hard to complain about this weather as the mild temperatures are great for calving, and we can get a head start on outdoor projects before the season begins.
One thing I have learned over the last 15 years is that nothing is ever good enough for ranchers when it comes to the weather. Mild dry temps are good for the calves but can be bad for the hay crop. If it does rain, it usually rains too hard to soak into the ground and much is wasted in runoff. If you have good moisture in the spring and a lot of grass to follow, then the fire danger increases as the hot days of August roll around. We can be hard to satisfy because there are so many variables at stake!
Much like everyday life, nothing goes exactly the way you want it to. There are so many things that are out of our control, and the weather is often the least of these. One thing we can control here at Eatons' Ranch in the spring is our preparation for another guest ranch season. Before we know it, the calendar will read May 29th and we will be welcoming new and familiar faces to our home in the Wild West. We hope you can find some time to join us and enjoy a dude ranch vacation like no other. We would love to share with you our way of life and give you a true western horseback riding experience.
And we promise not to complain about the weather.