September 16, 2010 by Jeff Way

"Wranglin Notes" by Tom Ringley is here!
"There is an allure to Eatons' Ranch that can't be explained."  So begins the Foreword by the Ranch's current general manager Jeff Way and what he says has proved true for generations of Eaton family members, dudes and employees.  One can't help but wonder if Howard Eaton, at the age of just seventeen, and the first of the Eaton brothers to go west in 1868, had any inkling of the enduring legacy they would eventually build and how many people down through the years would share a part of their dream.
At Eatons', one of the oldest dude ranches in the West, you can still mount a horse and freely roam the Ranch's 7200 acres at the foot of the beautiful Big Horn mountains.  The pleasures you experience will be little changed from the Ranch's earliest days as you follow the same trails traveled by generations of Eatons' guests.  Author Tom Ringley has followed the historic trail of Eatons' itself, and of the many people who have  played such a large part in its fascinating history.  Filled with stories, photos and archival tidbits from the Ranch's own Wranglin' Notes newsletter, Tom's chronicle  tells  the complete story of this unique enterprise over the last 131 years and helps us understand the truth of Jeff's words:  "Remember, once you are a guest here, you are always a part of Eatons' Ranch.
What exactly is a dude ranch vacation? In its simplest form, a dude ranch vacation offers a room, three meals a day and horseback riding, but it truly offers so much more.  You still receive all of the above, but in addition to that you get beautiful scenery, fresh mountain air, the opportunity to reconnect with family and friends, and western hospitality at its finest.
Dude ranching is rich in history, and we are fortunate to be descendants of those who started it all.  The Eaton brothers settled in Medora, ND in 1879 and quickly began accepting guests from back east and their native area of Pittsburgh.  Before long, the cost of their generosity and hospitality began to add up, and they had to consider charging people for their stays.  The first recorded paying guest was Bert Rumsey from Buffalo, NY in 1882, and thus an industry was born.
There are over 100 member ranches in the Dude Ranchers' Association.  Each ranch has a history of its own, whether it spans 125 years or 10 years; there is a ranch suited to every individual and family.  Here at Eatons' Ranch, our main focus has always been horseback riding.  We offer our guests the opportunity to explore over 7,000 acres at the foot of the Bighorn Mountains as well the 1.2 million acres of the Bighorn National Forest on one of our 200 horses.  When not riding, you can enjoy the peace and quiet with a good book, hike a myriad of trails, fish Wolf Creek, take a refreshing dip in the pool or watch the children play under the sun on Howard Hall lawn.  We provide our guests with enough options that you can choose to do as little or as much as you would like to during your stay.
It's not too late to plan your dude ranch vacation.  We invite you to join us and experience everything Eatons' Ranch has to offer during your dude ranch vacation. Once you have spent time with us, you will always be part of Eatons' and its history.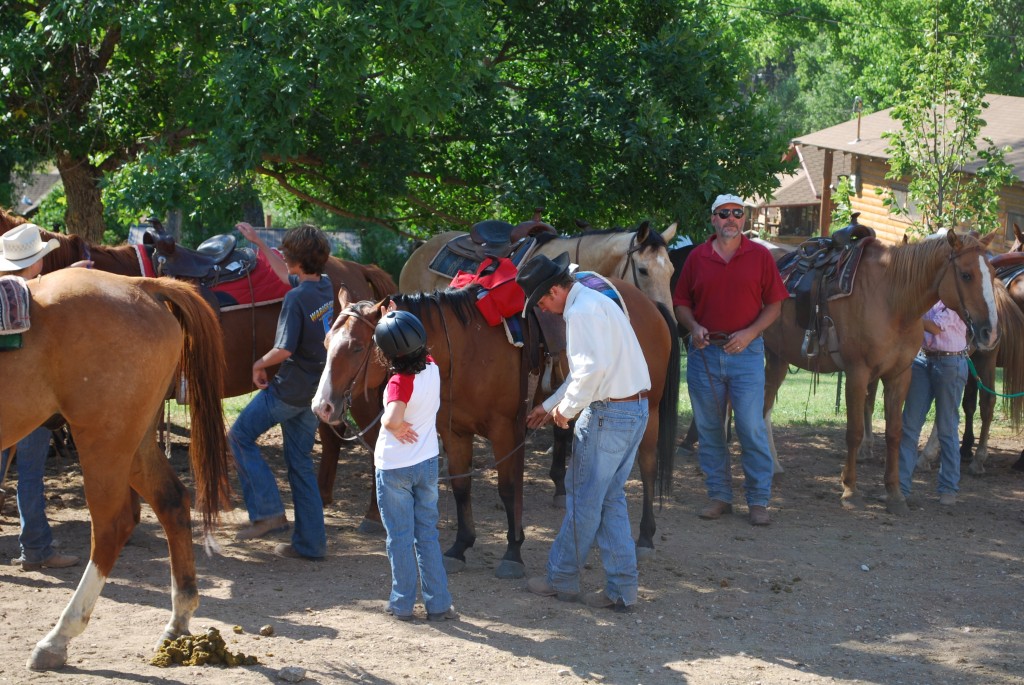 April 30, 2010 by Jeff Way
Opening day is just four short weeks away, and there is still much to do to get ready for our first guests.  We are in full swing trying to clear the grounds of all of the leaves and branches that fell throughout the fall and winter months.  The grass has really greened up over the last week, and it is time to start up the mowers to stay ahead of the spring growth.  We have updated more bathrooms as needed and are working on quite a few cabins in other ways as well.  It seems that every year we think we are caught up, but there are always improvements to be made.
We completed a major facelift to the living room of the Jenkins.  Thanks to the efforts of Steve Gage, Sean Meier, Lonny Gibson and Ed Gilbert, Mary Eaton's vision of the interior going back to its original state was realized.  It is hard to believe it is the same cabin.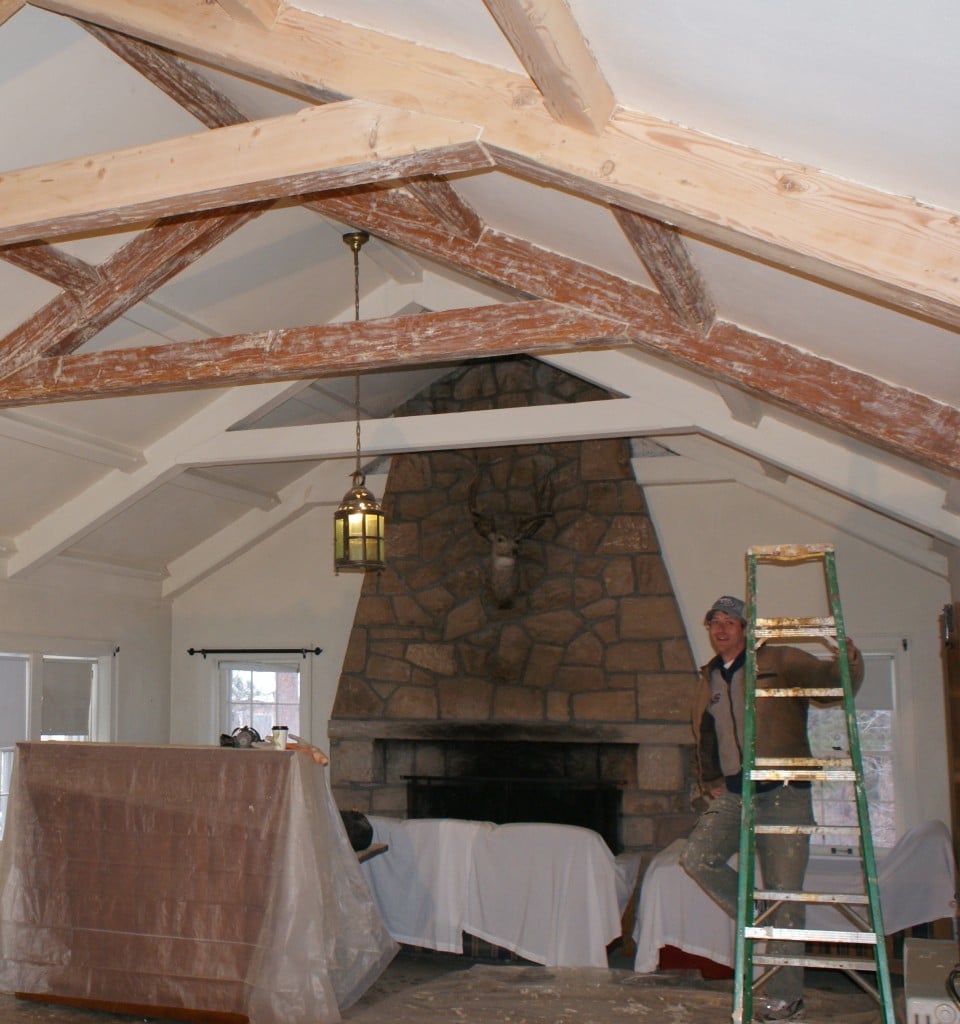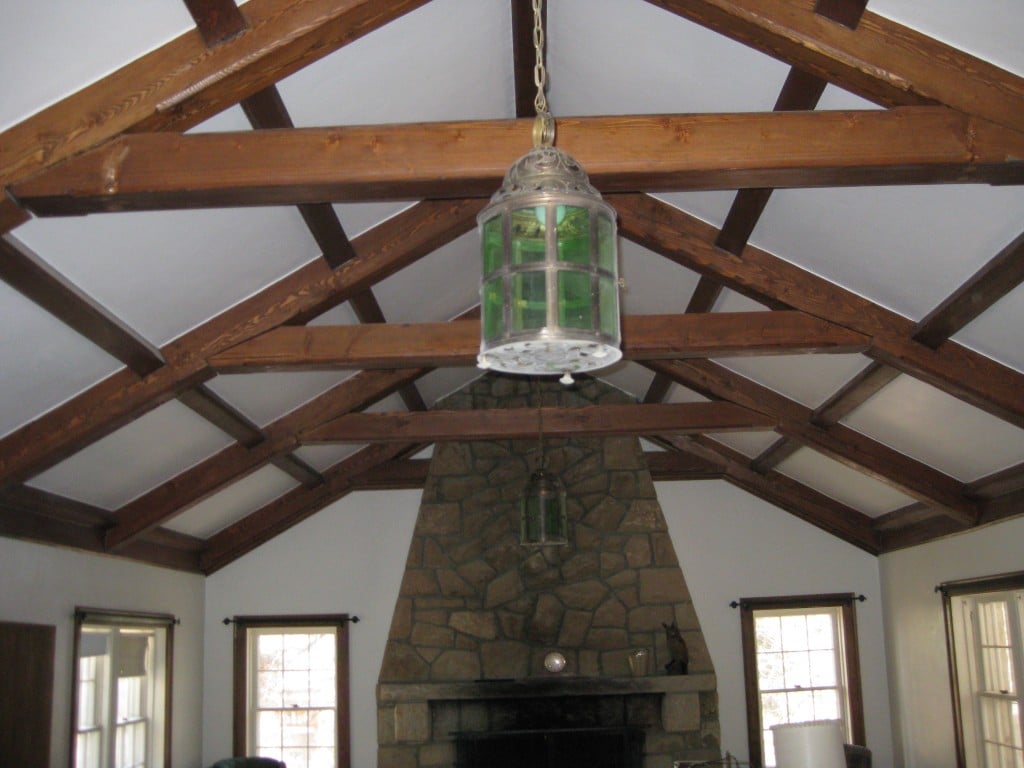 Given the state of business, we have taken a conservative approach to capital improvements, but we have an ample supply of paint and stain for the cabins, decks and out buildings that will have a fresh coat when the first guests arrive.
We know the season is upon us when the horses make their annual three-day trek to Wolf from the Bar 11 Ranch, their winter home.  T.J. Ferguson, Nate Schmeiser and their crew will leave Echeta on May 21st with approximately 140 horses.  Once here, they will join the 50 plus horses that spent the winter in Wolf.  In a little over a week's time most, if not all, will have new shoes and be readied to re-enter the dude string.
We are excited here in Wolf, WY to welcome new and familiar faces for the 2010 season.  If you haven't already considered a dude ranch vacation for this summer, it is not too late!