January 31, 2012 by Jeff Way

The annual Wranglin' Notes will be going out via e-mail to all of you who have signed up to receive our e-newsletters and e-mail updates.  The printed version will be in the mail soon!
Our winter bed & breakfast is up and running.  The dinner and brunch menus are now available online.  Enjoy our Wyoming dude ranch this winter by joining us for dinner, brunch, or a night at the foot of the Bighorn mountains.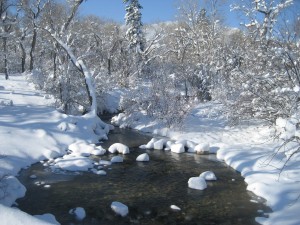 March 31, 2011 by Jeff Way
Every time I plan to write something, another month has gone by and there is snow on the ground again.  We just received a spring storm that brought about a foot of wet, heavy snow.  Here at at the foot of the Bighorn mountains, we often get our heaviest snowfall in late March and April.  Hopefully we will actually have a spring this year.  It seems the past few years it has been cold and wet through spring, and then it goes right into the heat of summer.
There is much going on here at our Wyoming dude ranch this time of year.  Our cows are a little more than halfway through calving.  Atfer a rough start, the cows and calves seem to be doing well now.  Carpentry and refinishing work is under way in preparation for another season.  Soon we will have a makeshift crew arrive to begin opening cabins before guest season begins.
We have kept some cabins open this off-season for a small bed & breakfast business.  We have used word of mouth to advertise, and only a handful of people have taken advantage of the beauty, the peace and the quiet of Eatons' this time of year.  Dining, however, has been popular since the end of January.  We offer dinner Thursday, Friday, and Saturday nights as well as brunch on Sunday.  Mike and Marisa have done a fantastic job taking care of our dinner guests.
If you are in the area, we hope you will join us for a meal, a quiet night's stay along Wolf Creek, or maybe both.  For those of you still deciding on a summer vacation, we hope you will consider Eatons' Ranch.  We know you will be glad you did.
February 25, 2011 by Jeff Way
Here at our Wyoming dude ranch we are closing out the month the way we started with cold, cold weather, at least until Saturday.  The low last night was -13 degrees with wind chill values of -25 degrees.  Tonight it is supposed to warm up to -9 degrees with wind chill values of -20 degrees.  It makes one long for those warm summer days.  Fortunately this cold snap is supposed to be short lived with temperatures hitting the 30's in a couple of days.
The cold doesn't shut things down on a ranch.  The cattle still need to be fed and we already have 17 calves on the ground at last count.  Our first calf was not due to arrive until the second week of March, but three separate fence lines could not deter one of our bulls a month before they were supposed to be turned out with the cows.
Our contractors arrived this week to begin updating bathrooms in some of our cabins.  The Lodge, Rinehart, Ayres, and Wigwam are all getting a little extra attention before we open June 1st.  They will be re-roofing a few cabins as well.  Lonny Gibson has put new flooring in three cabins and is now at work refinishing the stair case in the Main Ranch House.
We plan to try and keep warm this weekend along the Bighorns as we get ready to head into March.  June 1st will be here in no time and we look forward to seeing many new and familiar faces this summer here at Eatons' Ranch..
February 2, 2011 by Jeff Way
Yesterday at our Wyoming Dude Ranch it was 10 below zero.  This morning it was 15 below zero.  It has been colder but but when the wind picks up and the wind chill gets down to negative 30 that is cold enough.  When the the temperatures drop like this trucks don't start, pipes can freeze, and outdoor work is down right miserable.  Those of us in charge of the livestock, like Bill Ferguson, don't have a choice but to venture out into the cold.  The cattle and horses need extra feed and water and access to open water can be a problem out in the pastures.  Two to three times a day ice must be chopped and cleared from tanks and streams.
We know the deep freeze won't last forever, but the warm days of spring seem a long way off.  The snow covered pines in the background and the ice covering Wolf Creek are beautiful sights and makes us appreciate the change of seasons here in Wyoming at the foot of the Bighorn Mountains.  And it makes us appreciate even more the warmer days ahead when the snow and ice will melt, making way for the green grass of spring that will follow.
December 23, 2010 by Jeff Way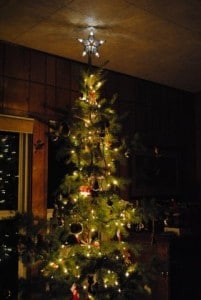 You know Christmas is near when you put up a tree.  As many of you know, putting up a tree when you have young kids in the house is a big event, and picking out that tree can be even bigger.  Cutting down a Christmas tree has been a tradition for many of us here at the Ranch, and this marked the fourth year in a row that my family and I, along with some friends, headed out to find that perfect tree.  After a long hike along the bottom of South Red Canyon in the cold and the snow, we all managed to find Christmas trees for our families.  The excitement on the kids' faces made the trek worthwhile.  They didn't seem to mind the cold fingers and toes because they had helped bring home their own tree.  It is little traditions like these that make the holidays so special.
We hope this holiday season finds you safe, happy and surrounded by those you love.  We wish you all a very Merry Christmas and a Happy New Year!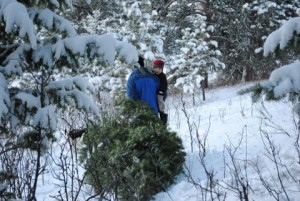 November 1, 2010 by Jeff Way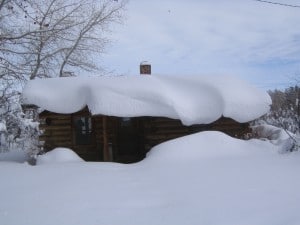 If you find yourself in our neck of the woods this winter or if you are just looking for a brief getaway to recharge from the day to day stresses we all experience, then be sure to come see us.  For the first time, we will be open as a B&B for a limited number of guests, from December 1-19 and from January 6-May 1st.
Come join us for a night, two nights or as many as you would like to stay.  A warm, comfortable cabin will be waiting for you.  No horseback riding will be available, but you will have access to all of the hiking trails, fishing and nearby winter activities in the Bighorn Mountains.
Rates will range from $100-150/night/room and include a full breakfast.  Additional meal packages are also available.  Please contact us today for more information.  We hope to see some of you again before next summer!