Opening day is just twelve days from now.  Our cleaning crew has been hard at work opening cabins since mid-April.  Summer employees are arriving almost every day to help get ready for the season.  All of our 51 cabins will be open and ready to go June 1st.  The cabins may be ready, but we will be hard pressed to get this Wolf, Wyoming dude ranch's grounds all cleaned up by opening day if it doesn't dry out soon.  It has been a very wet May.  We've had over 2 inches of moisture this week alone.  It's hard to complain about the moisture, but with the cool weather that has accompanied the rain, we haven't had much of a spring.
We start the season off with 20-30 guest the first week and gradually pick up from there.  June looks to be pretty busy, but if you haven't made your summer plans yet we still have a number of openings in July and August.  The Sheridan WYO Rodeo is July 13th thru the 16th.  The WYO Rodeo is great family fun and we still have a number of cabins open rodeo week.    Space opens up in August after the 8th if you are looking for an end of summer vacation before the kids go back to school.  Also, for those of you who have never experienced a fall along the Bighorn Mountains you should definitely consider a September visit. 
Keep an eye out for updates about the Third Annual Wolf Creek Wrangle 10 mile trail run and 10K hike on September 24th.  We will be offering discounted packages around that weekend.  We will have more details in the coming weeks.
If you haven't made reservations at our dude ranch along the Bighorns we hope to hear from you soon.  For those of you who already have reservations, we're excitied about the new season and we look forward to seeing you all soon!
February 2, 2011 by Jeff Way
Yesterday at our Wyoming Dude Ranch it was 10 below zero.  This morning it was 15 below zero.  It has been colder but but when the wind picks up and the wind chill gets down to negative 30 that is cold enough.  When the the temperatures drop like this trucks don't start, pipes can freeze, and outdoor work is down right miserable.  Those of us in charge of the livestock, like Bill Ferguson, don't have a choice but to venture out into the cold.  The cattle and horses need extra feed and water and access to open water can be a problem out in the pastures.  Two to three times a day ice must be chopped and cleared from tanks and streams.
We know the deep freeze won't last forever, but the warm days of spring seem a long way off.  The snow covered pines in the background and the ice covering Wolf Creek are beautiful sights and makes us appreciate the change of seasons here in Wyoming at the foot of the Bighorn Mountains.  And it makes us appreciate even more the warmer days ahead when the snow and ice will melt, making way for the green grass of spring that will follow.
December 23, 2010 by Jeff Way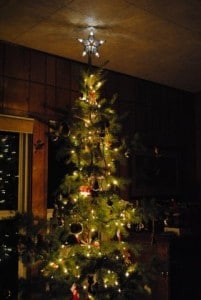 You know Christmas is near when you put up a tree.  As many of you know, putting up a tree when you have young kids in the house is a big event, and picking out that tree can be even bigger.  Cutting down a Christmas tree has been a tradition for many of us here at the Ranch, and this marked the fourth year in a row that my family and I, along with some friends, headed out to find that perfect tree.  After a long hike along the bottom of South Red Canyon in the cold and the snow, we all managed to find Christmas trees for our families.  The excitement on the kids' faces made the trek worthwhile.  They didn't seem to mind the cold fingers and toes because they had helped bring home their own tree.  It is little traditions like these that make the holidays so special.
We hope this holiday season finds you safe, happy and surrounded by those you love.  We wish you all a very Merry Christmas and a Happy New Year!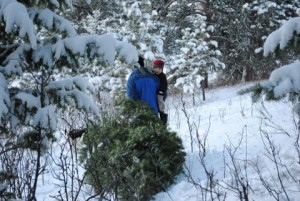 October 28, 2010 by Jeff Way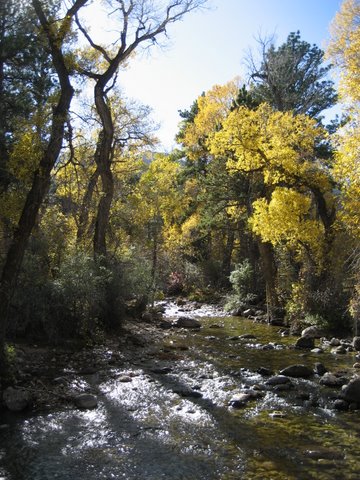 We've had a warm fall so far, which has prolonged the beautiful colors.  We are just getting a hint of typical October temperatures, and it feels good.
All of the cabins have been closed down for the winter, and life moves at a much slower pace.  Elk and deer hunting season is in its final weeks, and cattle work is under way in preparation for our calves to be shipped in early November.  Even though the Ranch is quiet, we are busily planning for next year.
We are offering all of our guests who joined us in 2010 a $500 discount per cabin if reservations are made for the same time period in 2011 and for a minimum of 6 nights.  In order to receive your discount, we must receive a $500 per person deposit by December 1st.  We hope you will be able to take advantage of this offer.  It is our way of saying thank you to all of you who were able to join us this past year.
April 1, 2010 by Jeff Way
Is it really Spring? Here at Eatons' Ranch, we follow the calendar very closely; not the particular days so much as the month and the season. When we flip the calendar page to March, we know there will soon be new calves on the ground and that spring is right around the corner.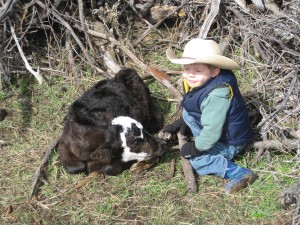 Today is April 1, so we are officially eleven days into spring. This is hard for us to believe as it doesn't seem we had much of a winter. We certainly had our share of cold weather through January, but it has been relatively mild since, and unfortunately we have had little snow. If one of our longtime guests was still able to call us about the snow pack, we wouldn't have much to tell him.
Spring along the Bighorn Mountains can seem like winter in most other places. We typically get the majority of our snow in April, so maybe it is still on the way. It is hard to complain about this weather as the mild temperatures are great for calving, and we can get a head start on outdoor projects before the season begins.
One thing I have learned over the last 15 years is that nothing is ever good enough for ranchers when it comes to the weather. Mild dry temps are good for the calves but can be bad for the hay crop. If it does rain, it usually rains too hard to soak into the ground and much is wasted in runoff. If you have good moisture in the spring and a lot of grass to follow, then the fire danger increases as the hot days of August roll around. We can be hard to satisfy because there are so many variables at stake!
Much like everyday life, nothing goes exactly the way you want it to. There are so many things that are out of our control, and the weather is often the least of these. One thing we can control here at Eatons' Ranch in the spring is our preparation for another guest ranch season. Before we know it, the calendar will read May 29th and we will be welcoming new and familiar faces to our home in the Wild West. We hope you can find some time to join us and enjoy a dude ranch vacation like no other. We would love to share with you our way of life and give you a true western horseback riding experience.
And we promise not to complain about the weather.