January 30, 2013 by Jeff Way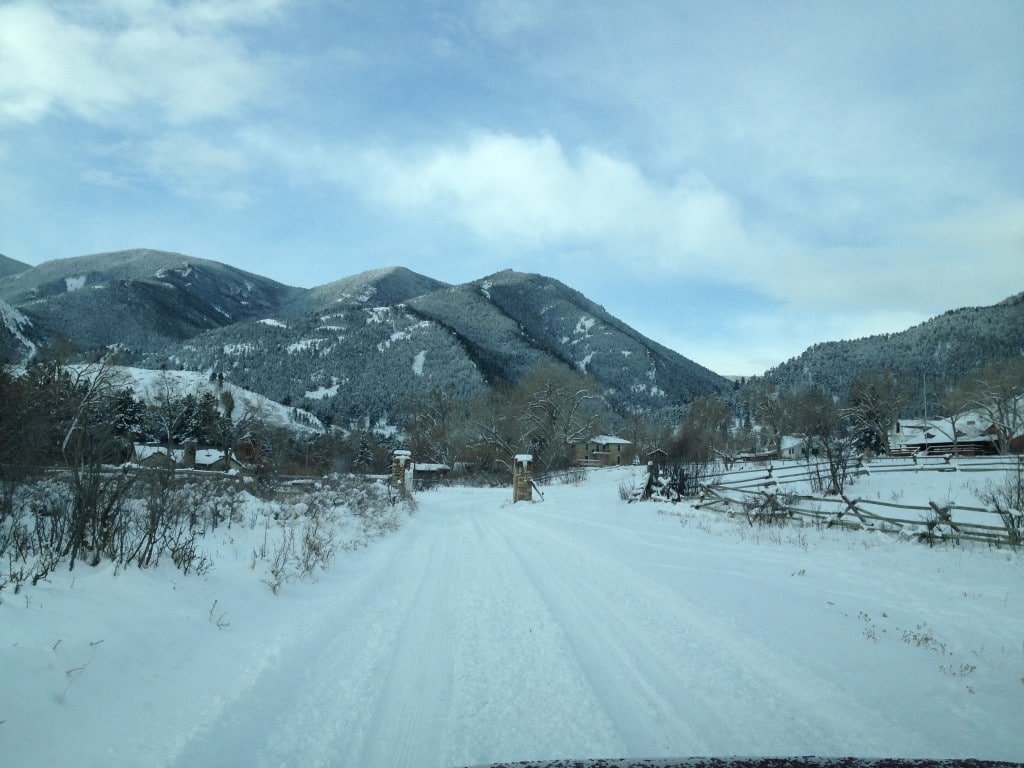 We just returned from the DRA Convention in Wickenburg, AZ and this is what was waiting for us, over 10 inches of much needed snow!  It was a little bit of an adjustment after being in 60 plus degree weather, but we're glad to be back at the Ranch.
We're all catching up on what we missed while we were gone, but Courtney was in the office to answer questions and take reservations.  In addition to being in the office, Courtney also took care of our dinner guests along with our chef Mark.  We've had a busy January for dinners, which we serve Thursday, Friday and Saturday nights and we offer brunch on Sunday.  We're also getting bookings for our bed & breakfast, so be sure to contact us if you're interested in a weekend getaway.  We just finished remodeling the upstairs of the Main House for use this winter and for the upcoming dude season.  Photos will be posted soon!
Opening day is just twelve days from now.  Our cleaning crew has been hard at work opening cabins since mid-April.  Summer employees are arriving almost every day to help get ready for the season.  All of our 51 cabins will be open and ready to go June 1st.  The cabins may be ready, but we will be hard pressed to get this Wolf, Wyoming dude ranch's grounds all cleaned up by opening day if it doesn't dry out soon.  It has been a very wet May.  We've had over 2 inches of moisture this week alone.  It's hard to complain about the moisture, but with the cool weather that has accompanied the rain, we haven't had much of a spring.
We start the season off with 20-30 guest the first week and gradually pick up from there.  June looks to be pretty busy, but if you haven't made your summer plans yet we still have a number of openings in July and August.  The Sheridan WYO Rodeo is July 13th thru the 16th.  The WYO Rodeo is great family fun and we still have a number of cabins open rodeo week.    Space opens up in August after the 8th if you are looking for an end of summer vacation before the kids go back to school.  Also, for those of you who have never experienced a fall along the Bighorn Mountains you should definitely consider a September visit. 
Keep an eye out for updates about the Third Annual Wolf Creek Wrangle 10 mile trail run and 10K hike on September 24th.  We will be offering discounted packages around that weekend.  We will have more details in the coming weeks.
If you haven't made reservations at our dude ranch along the Bighorns we hope to hear from you soon.  For those of you who already have reservations, we're excitied about the new season and we look forward to seeing you all soon!
February 25, 2011 by Jeff Way
Here at our Wyoming dude ranch we are closing out the month the way we started with cold, cold weather, at least until Saturday.  The low last night was -13 degrees with wind chill values of -25 degrees.  Tonight it is supposed to warm up to -9 degrees with wind chill values of -20 degrees.  It makes one long for those warm summer days.  Fortunately this cold snap is supposed to be short lived with temperatures hitting the 30's in a couple of days.
The cold doesn't shut things down on a ranch.  The cattle still need to be fed and we already have 17 calves on the ground at last count.  Our first calf was not due to arrive until the second week of March, but three separate fence lines could not deter one of our bulls a month before they were supposed to be turned out with the cows.
Our contractors arrived this week to begin updating bathrooms in some of our cabins.  The Lodge, Rinehart, Ayres, and Wigwam are all getting a little extra attention before we open June 1st.  They will be re-roofing a few cabins as well.  Lonny Gibson has put new flooring in three cabins and is now at work refinishing the stair case in the Main Ranch House.
We plan to try and keep warm this weekend along the Bighorns as we get ready to head into March.  June 1st will be here in no time and we look forward to seeing many new and familiar faces this summer here at Eatons' Ranch..