March 31, 2011 by Jeff Way
Every time I plan to write something, another month has gone by and there is snow on the ground again.  We just received a spring storm that brought about a foot of wet, heavy snow.  Here at at the foot of the Bighorn mountains, we often get our heaviest snowfall in late March and April.  Hopefully we will actually have a spring this year.  It seems the past few years it has been cold and wet through spring, and then it goes right into the heat of summer.
There is much going on here at our Wyoming dude ranch this time of year.  Our cows are a little more than halfway through calving.  Atfer a rough start, the cows and calves seem to be doing well now.  Carpentry and refinishing work is under way in preparation for another season.  Soon we will have a makeshift crew arrive to begin opening cabins before guest season begins.
We have kept some cabins open this off-season for a small bed & breakfast business.  We have used word of mouth to advertise, and only a handful of people have taken advantage of the beauty, the peace and the quiet of Eatons' this time of year.  Dining, however, has been popular since the end of January.  We offer dinner Thursday, Friday, and Saturday nights as well as brunch on Sunday.  Mike and Marisa have done a fantastic job taking care of our dinner guests.
If you are in the area, we hope you will join us for a meal, a quiet night's stay along Wolf Creek, or maybe both.  For those of you still deciding on a summer vacation, we hope you will consider Eatons' Ranch.  We know you will be glad you did.
September 3, 2010 by Jeff Way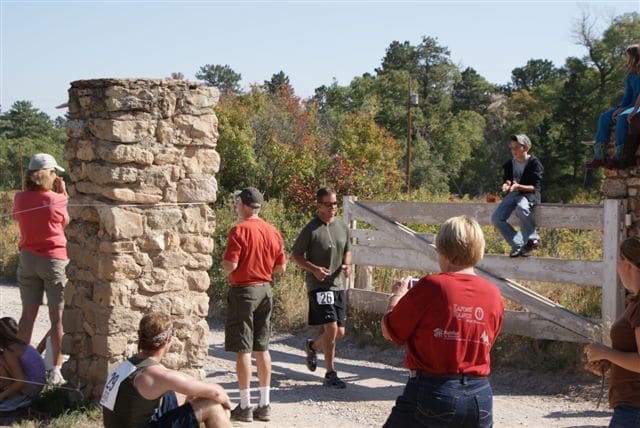 10M & 10K run/hike, Saturday, September 25th, on the oldest Dude Ranch in the nation – Eaton's Ranch outside of Sheridan, WY. The 10 mile trail run offers a challenging up and down course along the face of the Big Horn Mountains.  The trail is somewhat challenging, but worth it for the vistas!
Prizes will be awarded to the three best times in each gender division, and Eaton's provides a free BBQ for all runners and hikers. The cost is $35 to hike the loop and $50 to run it, and each paying participant will receive a free, North Face t-shirt. All proceeds benefit Habitat for Humanity! To register, call Big Horn Mountain Sports at (307) 672-6866.
If you have not visited the Bighorn Mountains before, make sure you bring your sense of adventure. Horseback Riding, Hunting and Fly Fishing are some great activities to explore after your big run. If the 10k run drained your adventures spirits, and your in search of relaxation. The Eaton Ranch's 40 X 70-foot pool and hot tub are available for guest use; soak those tired muscles after a run!
April 30, 2010 by Jeff Way
Opening day is just four short weeks away, and there is still much to do to get ready for our first guests.  We are in full swing trying to clear the grounds of all of the leaves and branches that fell throughout the fall and winter months.  The grass has really greened up over the last week, and it is time to start up the mowers to stay ahead of the spring growth.  We have updated more bathrooms as needed and are working on quite a few cabins in other ways as well.  It seems that every year we think we are caught up, but there are always improvements to be made.
We completed a major facelift to the living room of the Jenkins.  Thanks to the efforts of Steve Gage, Sean Meier, Lonny Gibson and Ed Gilbert, Mary Eaton's vision of the interior going back to its original state was realized.  It is hard to believe it is the same cabin.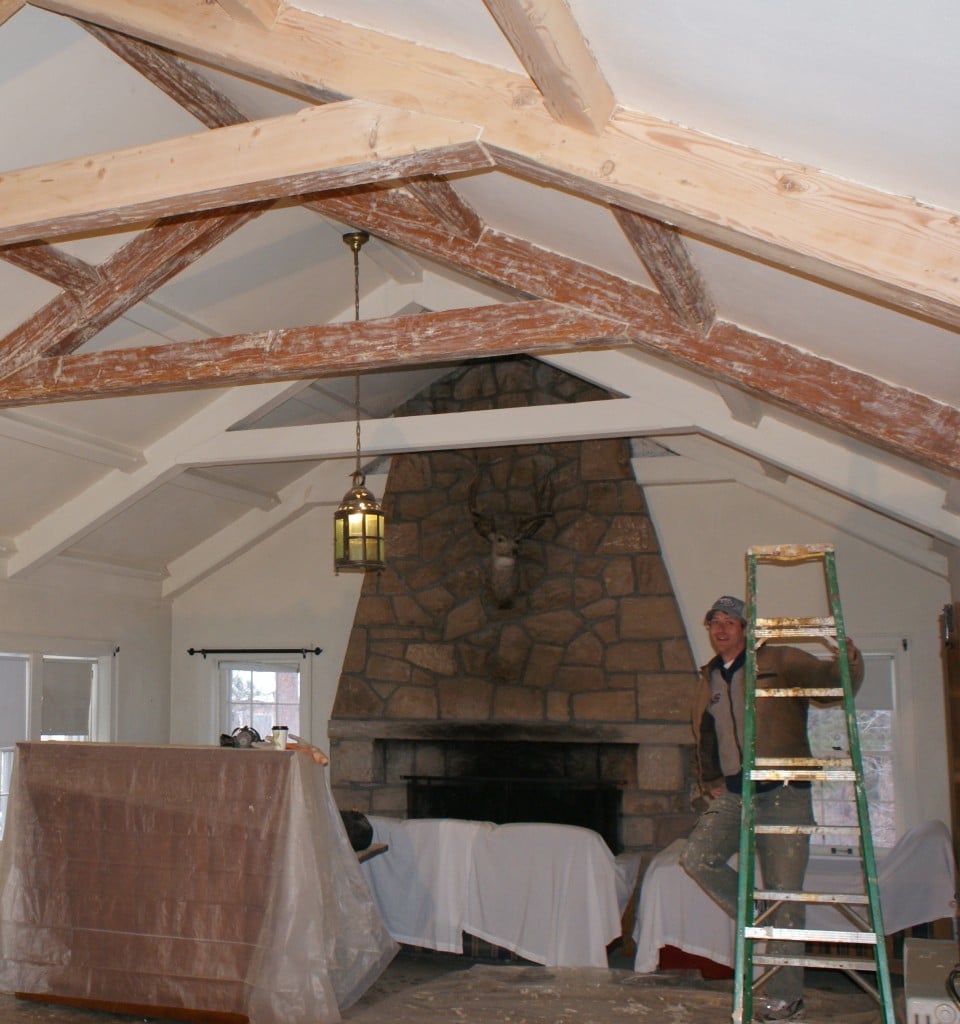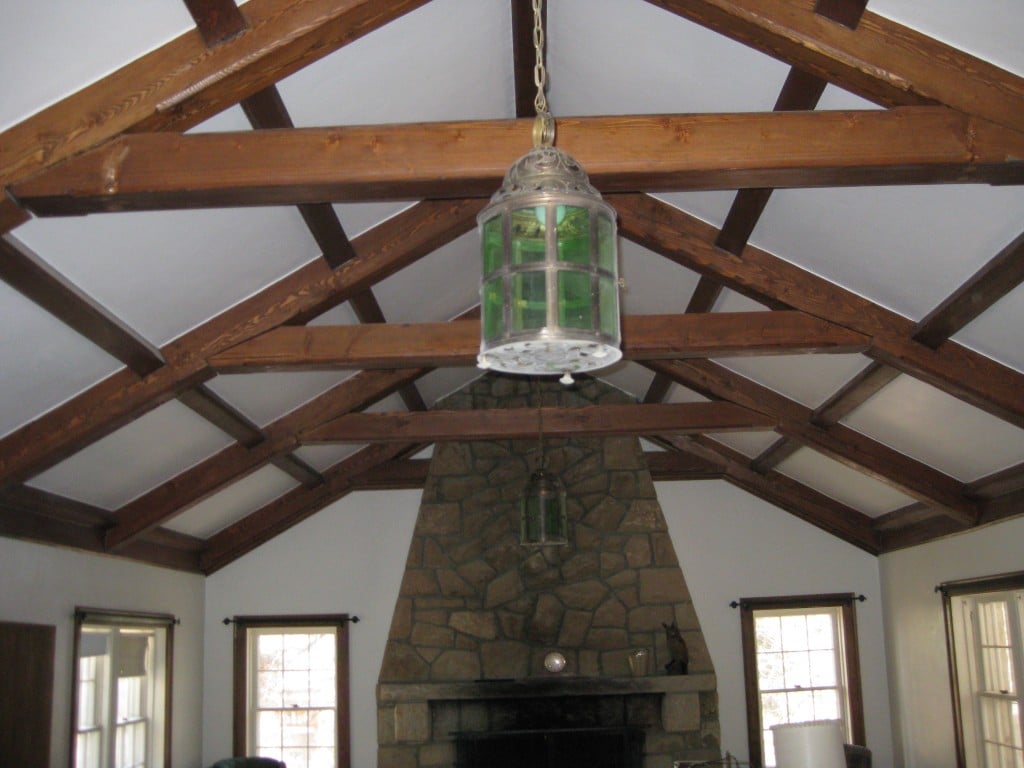 Given the state of business, we have taken a conservative approach to capital improvements, but we have an ample supply of paint and stain for the cabins, decks and out buildings that will have a fresh coat when the first guests arrive.
We know the season is upon us when the horses make their annual three-day trek to Wolf from the Bar 11 Ranch, their winter home.  T.J. Ferguson, Nate Schmeiser and their crew will leave Echeta on May 21st with approximately 140 horses.  Once here, they will join the 50 plus horses that spent the winter in Wolf.  In a little over a week's time most, if not all, will have new shoes and be readied to re-enter the dude string.
We are excited here in Wolf, WY to welcome new and familiar faces for the 2010 season.  If you haven't already considered a dude ranch vacation for this summer, it is not too late!
April 1, 2010 by Jeff Way
Is it really Spring? Here at Eatons' Ranch, we follow the calendar very closely; not the particular days so much as the month and the season. When we flip the calendar page to March, we know there will soon be new calves on the ground and that spring is right around the corner.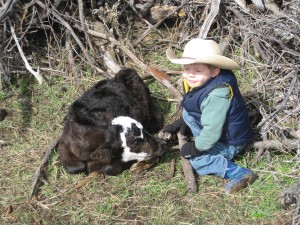 Today is April 1, so we are officially eleven days into spring. This is hard for us to believe as it doesn't seem we had much of a winter. We certainly had our share of cold weather through January, but it has been relatively mild since, and unfortunately we have had little snow. If one of our longtime guests was still able to call us about the snow pack, we wouldn't have much to tell him.
Spring along the Bighorn Mountains can seem like winter in most other places. We typically get the majority of our snow in April, so maybe it is still on the way. It is hard to complain about this weather as the mild temperatures are great for calving, and we can get a head start on outdoor projects before the season begins.
One thing I have learned over the last 15 years is that nothing is ever good enough for ranchers when it comes to the weather. Mild dry temps are good for the calves but can be bad for the hay crop. If it does rain, it usually rains too hard to soak into the ground and much is wasted in runoff. If you have good moisture in the spring and a lot of grass to follow, then the fire danger increases as the hot days of August roll around. We can be hard to satisfy because there are so many variables at stake!
Much like everyday life, nothing goes exactly the way you want it to. There are so many things that are out of our control, and the weather is often the least of these. One thing we can control here at Eatons' Ranch in the spring is our preparation for another guest ranch season. Before we know it, the calendar will read May 29th and we will be welcoming new and familiar faces to our home in the Wild West. We hope you can find some time to join us and enjoy a dude ranch vacation like no other. We would love to share with you our way of life and give you a true western horseback riding experience.
And we promise not to complain about the weather.